About Us
We at
Shrimad Sehat Private Limited
are carrying out our business operations with responsibility and perfection. From our podium, customers can avail high-quality products including
Polymyxin B For Injection USP, Posaconazole Gastro-Resistant Tablets, 2 Miu Colistimethate Sodium For Injection IP
, etc. Our
trader
and
supplier
company adheres to the industrial norms and quality checks the product before dispatch. We feel happy to be a part of this industry and help patients in getting rid of multiple health issues. We deliver unbeatable logistics expertise, technology solutions as well as support to health service providers in treating patients on the front lines and those innovating to find the treatments and cures.
Service
We are dedicated to providing excellent, worthy, and dedicated service to our clients and society.
Care and Integrity
We respect all our customers and treat them with care and compassion.
Being ethical and moral principles is part of our DNA (which is symbolized in our logo); we are dedicated to serving customers up to the mark of their expectations by delivering effective
Posaconazole Gastro-Resistant Tablets, Polymyxin B For Injection USP, 2 Miu Colistimethate Sodium For Injection IP,
etc.

Our Team
Mr. Jiten Patel (Director): Mr. Jiten Patel, the Companys director, belongs to Gandhinagar, Gujarat, India. He holds a BE Mechanical Engineering degree with a CAD/CAM specialization from LD College of Engineering in Ahmedabad, India, and has also completed training in Bosch's Advance Integrated System (AIS) in London, United Kingdom. He has more than 25 years of real estate experience. As a promoter, he has been involved with the company since its start. He is in charge of the company's entire operations and plays a key role in the company's strategic decisions. His business sense prompted him to grow into a conglomerate group, with five private limited companies spanning hospitality, education, pharma, health care and many more.
Mr. Chintan Shah (Director): Mr. Chintan Shah, Director of Shrimad Sehat Private Limited, comes from a business family in Ahmedabad, Gujarat, India. He earned a BE in Electronics and Telecommunications and a ME in Telecommunications from the University of South Australia in Australia. When Mr. Chintan joined the family firm in 2005, he brought with him a wealth of expertise and ideas. His contributions to the company have been outstanding, and his name has been synonymous with commercial expansion and diversification, beginning with reality, hotels, and pharmaceuticals. During his time as a real estate and hospitality entrepreneur, he witnessed the demand for and quality of service in the business. This hunger, together with his desire to serve the community, led him to the concept of Hospital and Pharma.
Mr. Ravi Goswami (Director): Shrimad Sehat Private Limited director, Mr. Ravi Goswami is a graduate of Charotar Institute of Technology in Changa, Gujarat, with a bachelor's degree in engineering. Since 2012, he has been the CEO of Catalyst Software, a Healthcare Software Development Company. He has nine years of experience in the healthcare industry and is knowledgeable in business management, information technology, customer relations, and other areas. Catalyst Software has grown rapidly and tremendously because of his competence with project management and user-friendly design, as well as his young and lively nature.
Mr. Kirti Jain (Head - Purchase and Sales): At Shrimad Sehat Private Limited the head of purchase and sales, Mr. Kirti Jain has a bachelor's degree in commerce and a master's degree in finance management, with a total of 20+ years of experience, including 5 years of hands-on expertise in pharmacy operations management. He saw the importance of purchase and sales in any firm, particularly in the pharmaceutical industry, which prompted him to take over the purchase and sales department. His network of contacts is vast, and he serves as a solid backbone of the company. His contributions are crucial to the procurement strategy and the company's growth.
Mr. Jigar Shah (Head - Administration & Operations): Mr. Jigar holds a diploma in pharmacy and has completed a NABH-certified course. With over 20 years of experience in the sector, he worked in a variety of roles, including pharmacists, retail health care supply chain, NABH chapter champion coordinator, therapeutic coordinator, and has progressed up the career ladder. He has worked as a store manager for some of India's most well-known brands, overseeing all operations and sales. His knowledge and experience are extremely beneficial to the expansion of SSPL as well as the exploration and setup of our warehouse and supply chain.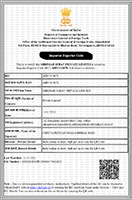 Read More